IT Lifecycle Services (ITLS) are the supporting activities needed to procure, use, maintain, and eventually dispose of information technology. As most technology has some definite measure of useable life, these activities are expressed as a cycle that begins with the selection of a solution and ends with its disposal and replacement.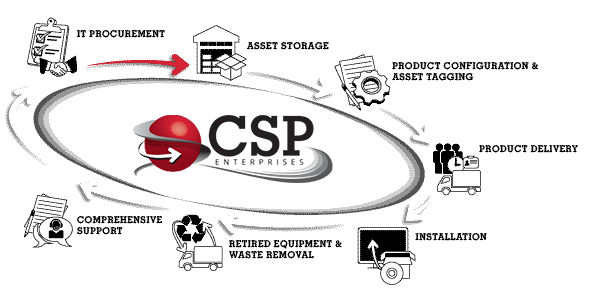 See below to learn more about our services or contact us today to start a conversation about your agency's technology challenges.
C

ompetitive

S

ourcing for IT

P

roducts
IT Procurement

CSP has successfully competed to provide technology solutions using multiple federal government purchase instruments. With Government Wide Acquisition Contracts (GWAC) that extend benefits to state and local agencies, we serve all levels of the United States public sector.

View our Government Contracts to learn more.

Because we use broad purchasing vehicles like SEWP V and GSA IT Schedule 70, we can provide you with a deep portfolio of innovative technology from top OEMs. We work proactively with our OEM partners to ensure your orders are configured correctly and your supply chain is secure.

Learn more about our OEM Partners.
C

apacity and

S

ecurity for your

P

roducts
Asset Storage

Located in Frederick, MD, our state-of-the-art facility offers 17,000 sq. ft. of climate controlled space to store and stage your IT equipment.

With 24 hour video monitoring, secure access, remote management, and a fail secure system we ensure your products are protected from theft, power failure, and inclement weather.
C

onfiguring

S

ystems for

P

eace-of-Mind
Product Configuration and Asset Tagging

CSP has the expertise and equipment to convert your pallet of boxes into a manageable IT solution.

With over 30 imaging stations and a team of certified engineers, we can configure any device in your enterprise; from servers to laptops, desktops, and other end-point devices. We'll load your custom application image, thoroughly test each machine, and repair or replace any failed components to ensure a nearly 0% DOA rate.

Our services include:

System Imaging
Asset Tagging
Warranty Labeling
Component Installation
C

ertified and

S

ecurity-Cleared

P

ersonnel
Product Delivery

With seasoned staff and an assortment of vehicles, CSP Enterprises can meet any delivery challenge. Our in-house logistics team handles all aspects of product delivery, from the loading dock to your desktop. All personnel are background checked, badged, and have the necessary credentials (per HHS) to access government buildings and infrastructure.

Inside, dock, or lift gate, scheduled deliveries, off-peak deliveries, or unique insurance requirements – whatever the need is, CSP Enterprises has you covered. From rack relocation to laptop delivery, each vehicle is outfitted with the tools needed to get the job done and custom tailored with security in mind. With satellite tracking, custom locking systems, teamed driving, and exceptional driving records on all personnel; you can be assured your products are received securely when and where you need them.
C

apable IT

S

ervice

P

rofessionals
Installation

Our team of certified technicians has the knowledge and training to help you quickly and painlessly stand up your new technology. We offer onsite installation and deployment services for both off-the-shelf and custom solutions to help you migrate applications and data to your new hardware.

Our services include:

Equipment Setup
Data Migration
System Deployment
C

aring about

S

ustainable

P

rocesses
Retired Equipment & Waste Removal

Discarded packaging and outmoded technology can have a serious impact on our environment. We strive to deliver minimal packing materials and diligently remove waste after installing new equipment. We can permanently remove and destroy sensitive data on your old devices. And using our Asset Recovery Services (ARS), we can safely remove and recycle your end-of-life hardware.

Our services include:

Asset Removal
Asset Recovery Services (ARS)
Secure Data Erasure & Destruction
Waste Removal & Recycling
C

ustomer

S

atisfaction is Our

P

riority
Comprehensive Support

Ensuring your complete satisfaction throughout the full lifecycle of your technology is the heart of everything we do at CSP. We work with you to build monitoring and support solutions that include custom management and reporting tools that are tailored to your agency's unique requirements. Should you need technical assistance at any point in the life of your products, a live support technician is just a phone call away.

Our services include:

Customer Customized Reports
Warranty Services (Break-fix)